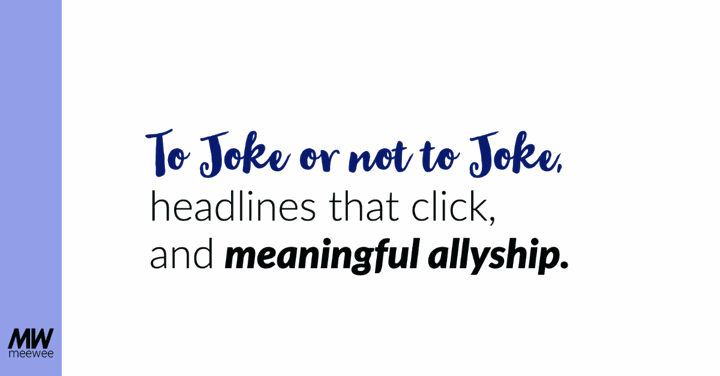 Here's what we've been reading (and listening to) here at MeeWee this week:
"There is power in being an imperfect ally."
"Unapologetic marketing truth-teller" Katie Martell discusses "Woke Marketing" on this episode of the Retail Remix podcast. She talks about the importance of leveraging your brand's platform for meaningful allyship, and also shares insights into navigating this era of woke-washing: the collision of social movements and marketing, and all the discomfort and greatness that can come with it.  
---
The name change that was. Then wasn't. Or was it? 
No, Volkswagen isn't rebranding itself as Voltswagen. It was apparently an early April Fools' Day announcement that fell flat. 
In the short run, you can fool people, and it seems cute and entertaining. But in the long run...for a company that already has credibility problems, this is really a strange move.
---
To joke or not to joke
With the Volkswagen kerfuffle on our minds, it's a good time to consider if April Fools' Day humor is on- or off-brand for your company. The Content Marketing Institute has a great piece on the risks and rewards of fooling your audience. 
If your brand has never used humor or the element of surprise in its content, don't do it. If your brand thinks of April Fools' as a one-day joke, don't do it. If your brand isn't prepared to devote significant resources to develop a thoughtful, well-executed campaign, don't do it. If your brand leaders can't weather criticism, don't do it.
---
Writing headlines that click
The magic number to use in headlines is 10. That's according to BuzzSumo and is one of the nuggets of information gleaned from the company's analysis of 100 million headlines - all to help marketers write the best subject lines, tweets, video titles, and more. 
Happy Marketing.