The cedar shoe tree launched the Woodlore brand in 1987 and continues to be its core product. This maker of fine shoe and clothing care items expanded its product mix and is trying to get their shoe tree enthusiasts to consider items like handcrafted cedar hangers, clothing racks, closet organizers, and pant trolleys.
Woodlore customers are a devoted group who are committed to quality, trusting Woodlore to provide them with the quality products that will maintain their fine shoes and clothes.
This type of brand affinity is a marketer's dream and, often, an untapped resource. 
Woodlore saw the potential of this customer base and was ready to try something new to engage these loyal customers and build organic awareness, on a budget.
Enter MeeWee. 
Woodlore talked through a few different campaign approaches with the MeeWee team, and for its first MeeWee link, decided to test a friends and family sale on its pant trolleys. 
Customer Experience
Below the traditional sections of the marketing email, Woodlore included this on brand graphic with encouragements to share on social media: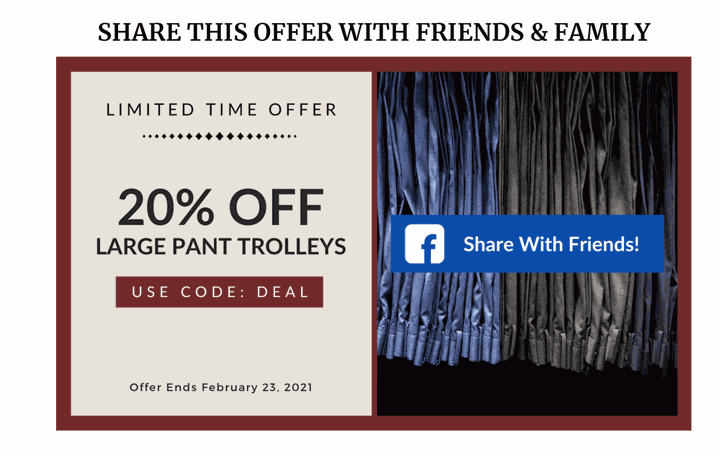 This approach plays on a number of motivators:
Offers exclusivity

: a friends and family discount

Creates urgency

: it's a limited time offer

Taps into brand affinity

: gives devoted customers a chance to share their love of Woodlore
Behind the Scenes
It was a quick and straightforward email campaign with success that went beyond the inbox: 
Introduced existing customers to a new line of products

Made customers feel closer to the brand by inviting them to be a part of the process

Reached over 17,000 potential new customers via social sharing

Converted new customers 

Helped Woodlore start to identifying customer brand advocates within their core audience
The process was simple and the results encouraging, prompting Woodlore to plan its next slate of MeeWee links for an upcoming round of promotions. 
Thanks to our friends at Woodlore for letting us share these details with you. This promotional campaign is just one of the many different approaches you can take with MeeWee. 
What will you try?
A tip: Let us help
We get it. It's not easy to try something new. You don't have time. You don't have the energy. So, let us help you get started with MeeWee. We're happy to talk you through the process, show you how it works, and answer any questions. If you don't already have your free account, sign up here. And if you want to get started on your own, here's a short video on creating your first MeeWee link. 
Happy marketing.