How do you connect with your client community? What makes them feel like a part of your business? How do you let them know they matter? 
The idea of forming a genuine connection with your customers may have seemed like a "nice to have" in the pre-COVID world of marketing. But now, that genuine connection is what will help save businesses.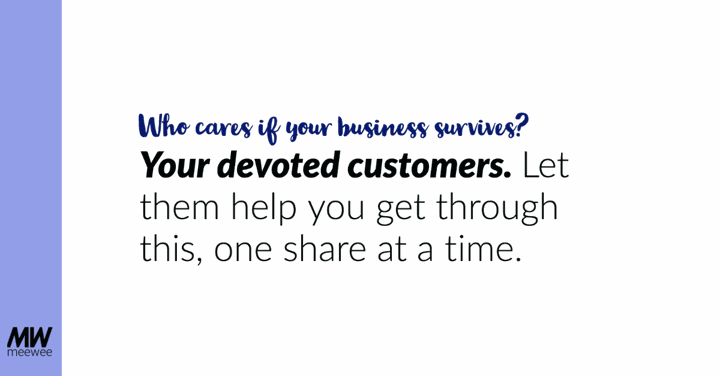 While you can use MeeWee as part of your complex email and social media marketing initiatives, it can also play a supporting role in a straightforward outreach program: "We need your help. Will you help us spread the word?" 
Here are a few recent ideas in action: 
We're Back! - One Boston-area business used MeeWee links to announce their recent reopening. It was a happy announcement and a simple request: "We're back. Will you help us spread the word?" There was no incentive attached, no promotion included. But there was celebration over social as the word spread from the initial email to the social feeds of devoted customers. That simple action drove the excitement to friends, family and followers beyond the brand's own reach, without any investment in social media advertising.    
Businesses supporting businesses - One retailer used their first MeeWee link to promote a small business initiative - a "Lift Up Local" campaign designed to bring the community together. A dozen small businesses collaborated on mystery boxes full of locally-sourced items, and made them available for purchase for two weeks only. And by making a simple ask, customers helped spread the word about the campaign, which reached its sales goals ahead of schedule. 
The people who love these brands want them to survive. That's why they shared the news. That's why they spread the word. That's why they spent their money with these companies and asked others to consider doing the same. 
Who cares if your business survives? Let them help you get through this, one share at a time.