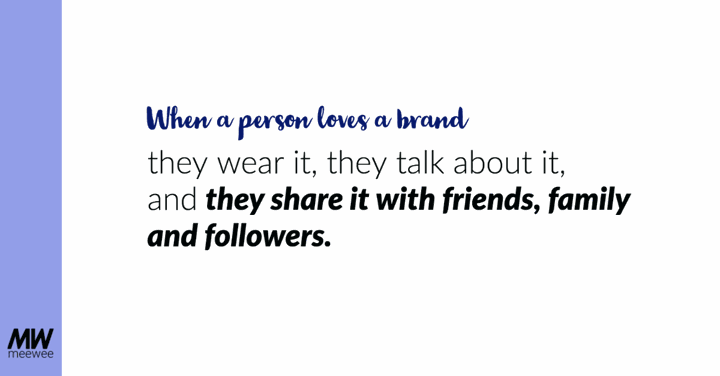 If brand affinity is the most valuable level of a relationship between you and your customer, what are you doing to put brand affinity at the heart of your marketing? 
We believe in the power of people to spread the word about brands they love. When a person loves a brand, they wear it, they talk about it, and they share it with friends, family and followers. They are a customer brand advocate. Your best possible asset.
Engage them, harness their love and excitement for your company, and you have tapped into marketing gold: people talking about your brand. 
"There is nothing more powerful than a customer talking about my brand"
– CMO of Specialty Retailer
From authentic conversations come actual conversions when you make it easy for customers to share the love. 
That's why MeeWee mapped out an effective way to put brand affinity at the heart of a scalable process, one that boosts revenue, expands reach, cuts through the noisy retail marketing landscape, and turns loyal customers into customer brand advocates.
Let me show you how it works:
Pick an audience to target and create an email in your existing email marketing platform.
Select your most shareable content. This will vary depending on your campaign, audience, and goal. Maybe it's a video about the cause you support, an invitation to an exclusive sale, an event announcement, or the release of your new podcast. 
Build your links in MeeWee: set your campaign criteria and consider how you may want to reward your customer (discounts, free products, giveaway entries, exclusive content, your imagination is the only limit). 
Send your email with your MeeWee links. 
Customers are delighted by your email and share the content on their social networks.
Friends and followers discover your brand and start interacting with your fantastic company.
If you choose, your brand advocates get rewarded. 
The virtuous cycle continues.
You're making it easy for your customers to share the love of your brand, and we're making it practically effortless to implement and track.