Today, buyers not only expect quality products, they expect to buy from socially conscious companies. In one national study, 70% of consumers polled said they want to know what brands are doing to address social and environmental issues. 
Corporate social responsibility programs are growing and initiatives can range from reducing carbon footprints to volunteering in your community. In a COVID-19 world, it can also mean everything from adopting local food banks, sending meals to front line workers, or a demonstrable commitment to the health and safety of employees and customers. 
As long as your approaches are genuine and appropriate, they can resonate with consumers. 
Here are a few companies setting the standard:  
Two Blind Brothers makes ultra-soft designer clothing and donates 100% of the profits to blindness research. 
Toms pioneered the Buy One, Give One brand and donated almost 100 million pairs of shoes in 13 years. They're evolving their giving model, investing $1 for every $3 customers spend to support a range of humanitarian organizations. 
Ajiri Tea is dedicated to employment in western Kenya, sourcing tea and coffee from small-scale farms and employing local women to make beautifully handmade labels. Oh, and 100% of net profits go back to Kenya to pay school fees for orphans. 
Even if giving isn't baked into your value proposition deeply as these standouts, you can still make an impact, and that commitment to something other than profit can help build trust in your brand. That trust helps us move customers up the ladder from the rung of brand loyalty, to the top step of brand affinity.
Remember, brand affinity is the most enduring and valuable level of a relationship between a business and consumer based on the mutual belief that they share common values.
But, marketer beware. Savvy consumers know when a brand is pandering.
"Unapologetic marketing truth-teller" Katie Martell even created a "Femvertising Spectrum" in the wake of brands co-opting feminism for marketing and advertising. She'll rate campaigns on a scale of exploitation to championing based on how well they practice the values they're preaching.
Always be the champion. Katie is watching. And so are your customers.
You want people to be talking about your company because it takes an interesting approach to business, communications, or supporting the community. Not because of hollow promises made during a social movement or tone-deaf statements sent during a time of crisis.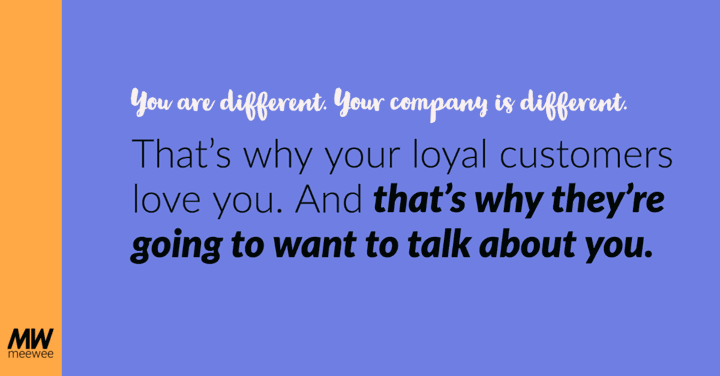 You are different. Your company is different. That's why your loyal customers love you. And that's why they're going to want to talk about you.