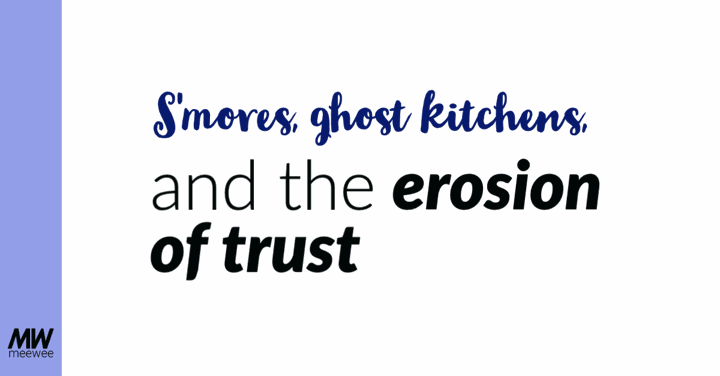 Here's what we've been reading (and listening to) here at MeeWee this week:
The Baseline of Trust
The 2021 Edelman Trust Barometer is out and it's a sobering look at the erosion of trust across our major institutions. Where do we go from here?
The top trust-building action for business is now guarding information quality, ensuring that reliable trustworthy information goes out to their employees, and, by extension, the community.
---
Does branding have a branding problem?
That's one of the questions Shankar Vedantam, host of Hidden Brain, asks during the Our Brand, Our Selves episode of his podcast (a MeeWee favorite). Vedantam and Americus Reed have an in-depth discussion about the power of brands, the stories we tell our customers and ourselves - and the emotional, if irrational, connection we make with the brands we support. 
---
Give us more S'mores
We love how Hershey's tweaked its marketing in response to our increased consumption of s'mores related products: 
When it spotted the s'more trend, she said it ramped up production of the milk chocolate bars and the inventory at stores. It adjusted marketing to depict s'mores as an ideal treat for a more intimate backyard gathering instead of a large social event.
---
The Evolution of Ghost Kitchens
Watching the ghost kitchen model evolve, it's encouraging to read about the growing partnership between hotel chains and the small businesses that surround individual hotel locations.  
Hyatt, which has more than 900 properties, sees another benefit to installing ghost kitchens in several of its hotels: a support system for small businesses.
 

In November, the company started Hyatt Loves Local, a partnership program that offers resources — including kitchen space — to local businesses that have struggled during the pandemic. 
 

"Our hotels are part of the community in which they operate. If the neighborhood is struggling, that's not good for anyone.