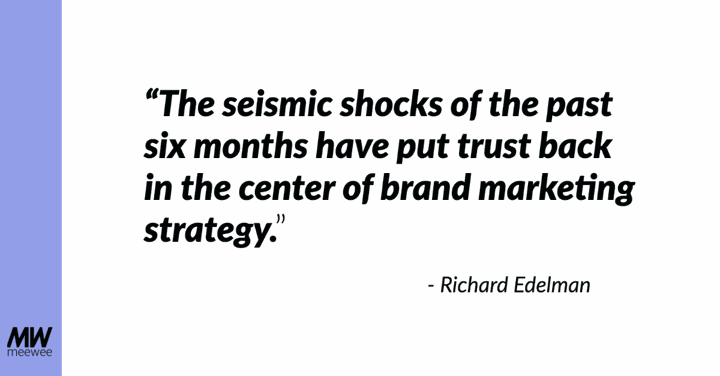 Let's talk trust.
Who do you trust in this world? Is it your family, friends, or colleagues? How did they earn that place in your trusted circle?
When it comes to news organizations, who do you rely on for information? Why? How did they earn it?
As a consumer, which brands do you trust? How has that trusted brand earned your loyalty? And has that loyalty wavered in recent months?
Now put your marketing hat back on. If you stepped into your customers' shoes, would you trust your brand? 
In 2020, trust looks very different than it did in 2019. Heck, it looks different than it did in February. 
As Richard Edelman recently said, "The seismic shocks of the past six months have put trust back in the center of brand marketing strategy."
Trust is how we form deeper relationships with our customers. As reported in the Edelman Trust Barometer Special Report: Brand Trust in 2020, "those who highly trust the brands they purchase will reward them with loyalty, engagement, and advocacy."
Here are a few stats from the report:
• Loyalty: 75 percent of people with high brand trust say they will buy the brand's product even if it isn't the cheapest
• Engagement: 60 percent of people with high brand trust say they pay attention to the brand's communications
• Advocacy: 78 percent with high brand trust say they'll likely share or repost content about the brand, they will recommend the brand to others, and they will defend the brand against criticism
What does brand trust earn you? Loyalty. Engagement. Advocacy.
How are you cultivating and embracing that precious level of brand affinity?
Remember, when a person loves a brand, they wear it, they talk about it, and they share it with friends, family and followers. They are a customer brand advocate. Your best possible asset. 
Now more than ever, you need your advocates and they are looking to see how you respond to this changing world.
Be worthy of their trust.
And put it at the center of everything you do.